Almond Flour Keto & Gluten Free Shortbread Cookies
Basic Keto Shortbread Cookies
Optional Chocolate Dip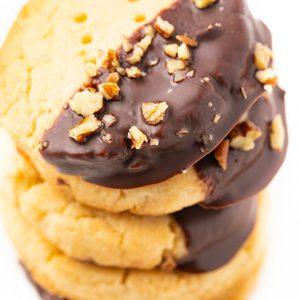 Basic Keto Shortbread Cookies
Preheat the oven to 350 degrees F (177 degrees C). Line a cookie sheet with parchment paper.

Use a hand mixer or stand mixer to beat together the butter and erythritol, until it's fluffy and light in color.

Beat in the vanilla extract. Beat in the almond flour, 1/2 cup (64 g) at a time. (The dough will be dense and a little crumbly, but should stick when pressed together.)

Scoop rounded tablespoonfuls of the dough onto the prepared cookie sheet. Flatten each cookie to about 1/3 in (.8 cm) thick. (You can make them thicker or thinner to your liking. Keep in mind they will not spread or thin out during baking, so make them as thin as you want them when done.)

Bake for about 12 minutes, until the edges are golden. Allow to cool completely in the pan before handling (cookies will harden as they cool).
Optional Chocolate Dip
Allow gluten-free shortbread cookies to cool and harden completely before dipping in chocolate. Line a small baking sheet with parchment paper (one that will fit in your fridge).

Melt sugar-free chocolate and coconut oil in a double boiler. Once melted, dip the cookies halfway into the chocolate and place onto the lined pan. Immediately sprinkle with chopped nuts before the chocolate sets.

Chill in the refrigerator before handling, until the chocolate is firm.
Recipe from wholesomeyum.com
https://www.wholesomeyum.com/recipes/gluten-free-shortbread-cookies-low-carb-sugar-free/