Baked Macaroni and Cheese Cupcakes
Vegetable cooking spray
2 cups dried bread crumbs, divided
1 tablespoon olive oil, plus extra for drizzling
8 ounces ground turkey or chicken, preferably dark meat
1/2 teaspoon kosher salt, plus extra for seasoning
1/4 teaspoon freshly ground black pepper, plus extra for seasoning
8 ounces small pasta, such as pennette, shells, or elbows
2 cups grated Parmesan
1 1/2 cups grated white Cheddar
1 cup cherry tomatoes, quartered
2 cups chopped broccoli, blanched
1 pound asparagus, cut into 3/4-inch pieces, blanched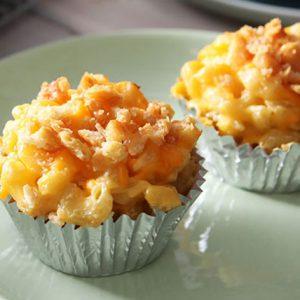 Preheat the oven to 375 degrees F. Spray 2 (12-cup) muffin or cupcake pans with vegetable cooking spray. Using 1 cup of the bread crumbs, coat the inside of each muffin cup with bread crumbs, shaking off any excess.
In a medium skillet, heat 1 tablespoon of olive oil over medium-high heat. Add the ground turkey or chicken, 1/2 teaspoon salt, and 1/4 teaspoon pepper, Cook, stirring frequently, until cooked through, about 5 to 8 minutes. Set aside and cover to keep warm.
Bring a large pot of salted water to a boil over high heat. Add the pasta and cook until tender but still firm to the bite, stirring occasionally, about 8 to 10 minutes. Drain and add to a large bowl. Stir in the cooked turkey and the cheeses. Season with salt and pepper, to taste. Spoon the prepared pasta mixture into the cupcake molds, filling evenly to about 2/3 full. Arrange a few pieces of tomato, broccoli and asparagus into each cup. Top with a thin layer of the remaining bread crumbs and drizzle with olive oil.
Recipe from www.foodnetwork.com