Chicken Pot Pie with Cauliflower Crust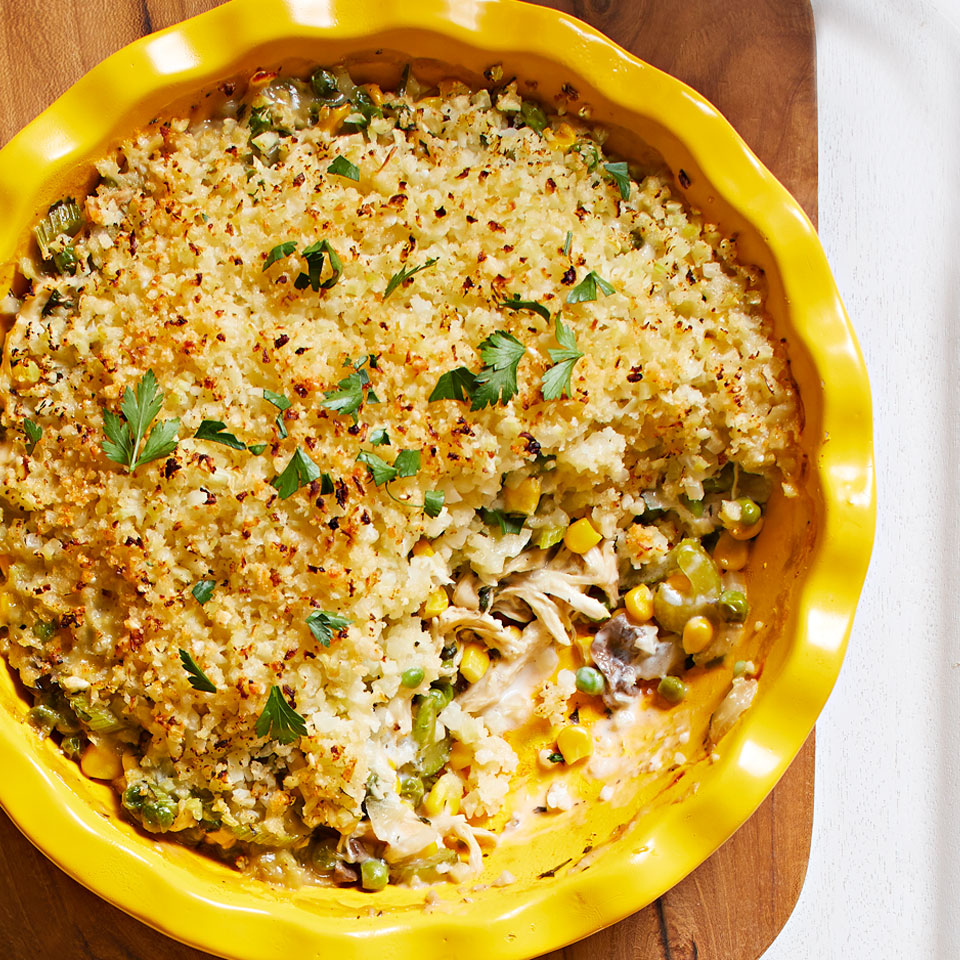 Preheat the oven to 120 degrees F (50 degrees C). Line a baking sheet with parchment paper.
Put cauliflower into the bowl of a food processor and pulse until it resembles rice. Transfer to a microwave-safe bowl and microwave for 5 minutes. Set aside and cool cauliflower completely, about 10 minutes.
Place cauliflower rice in a cheesecloth and squeeze out as much water as possible to ensure that it crisps during the cooking process. Spread cauliflower onto the prepared baking sheet.
Bake in the preheated oven for 8 minutes. Stir and continue baking about 7 minutes more.
Remove cauliflower from the oven and stir to mix and dry as it cools.
Increase the oven to 400 degrees F (200 degrees C).
Put cooled cauliflower rice into a bowl. Add 1/2 cup Cheddar cheese, egg, 1/4 teaspoon salt, and 1/4 teaspoon ground black pepper and mix until completely combined. Press mixture into the bottom and around the edges of an 8-inch round, nonstick, baking pan to form a crust.
Bake in the preheated oven until browned, about 25 minutes.
Meanwhile, heat a cast iron skillet over medium-high heat and cook bacon until crisp and the fat has rendered. Add onion, carrot, and celery and cook until softened, about 5 minutes. Add chicken and cook until cooked through, about 5 minutes. Add peas and mushrooms; cook until mushrooms have softened and peas are heated through, about 5 minutes.
Pour chicken broth and cream into the skillet with the chicken mixture. Season with 1/2 teaspoon salt and 1/2 teaspoon pepper and stir well. Reduce heat and simmer at a low boil until sauce has reduced by one-fourth, about 5 minutes.
Mix cornstarch and water together in a bowl to create a paste. Add slowly to the chicken mixture in the skillet, stirring constantly, until sauce thickens. Pour chicken mixture into prebaked cauliflower crust. Top with remaining 1/2 cup Cheddar cheese.
Set an oven rack about 6 inches from the heat source and preheat the oven's broiler.
Place chicken pot pie under the broiler until browned and bubbling, 5 to 10 minutes. Allow to cool about 5 minutes before serving.