Chocolate Peppermint Cheesecake
Ingredients for Crust
2 cups crushed chocolate graham crackers
1/3 cup butter
Ingredients for Filling
3 -8 ounce packages cream cheese (24 ounces total), softened
¾ cup granulated sugar
4 large eggs, room temperature
1 tsp vanilla extract
1 tsp peppermint extract
7 ounces condensed milk (half a full size can)
6 ounces dark chocolate chips, melted
1/3 cup M&M's® White Peppermint roughly chopped
Ingredients for Ganache
6 ounces dark chocolate chips
4 TBS heavy whipping cream
1/2 cup M&M's® White Peppermint, chopped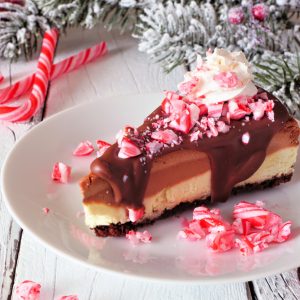 Preheat oven to 325 degrees F.
In a medium bowl, combine graham cracker crumbs and butter, mix well to moisten. Press into the bottom of a 10 inch spring form pan.
Using a stand mixer or electric mixer, add cream cheese and sugar to the bowl, mix on a high speed to combine. Add eggs, one at a time until combined. Add vanilla and peppermint extract; mix. Add condensed milk and melted chocolate chips; combine until just mixed.
Remove bowl, add 1/3 cup chopped M&M's® White Peppermint; fold to combine. Pour filling on top of graham cracker crust and evenly smooth out the top.
Place into oven and cook for 50-60 minutes, or until just set.
Remove from oven and allow to cook on the counter for 1 hour. Place into fridge and leave for at least 6 hours, preferably overnight.
The next day, using a double boiler, add chocolate chips and heavy whipping cream; mix while melting, until melted and combined. Use a spatula to spread ganache over the top and sides of the cake. Sprinkle 1/2 cup M&M's® White Peppermint over the top.
Slice and serve. Store in refrigerator.
*Place a baking dish with about an inch of water in the bottom of the oven, this water dish will help humidify the oven – leave at the bottom while the cheesecake bakes*