1 cup Butter
1 cup Sugar
1 cup Packed Brown Sugar
2 Eggs
2 tsp Vanilla Extract
1 1/2 cups Old-fashioned Oats
2 cups All-purpose Flour
1 tsp Baking Soda
1 tsp Cinnamon
1/2 tsp Salt
1/2 tsp Baking Powder
1 1/3 cups Dried Cranberries
1 cup Chopped Pecans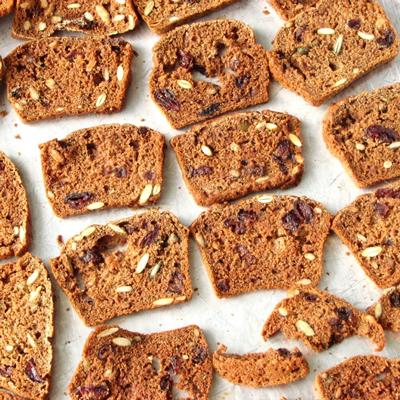 In a large bowl or stand mixer, cream butter and sugars until light and fluffy.  Add eggs, one at a time, beating well after each addition.  Beat in vanilla.

Combine oats, flour, baking soda, cinnamon, salt and baking powder; gradually add to the creamed mixture and mix well. Stir in cranberries and pecans.

Drop tablespoonfuls 2 inches apart onto a lightly greased baking sheet.
Bake at 350 degrees for 12-14 minutes or until lightly browned.  Remove to a wire rack to cool.
Recipe Adapted from Taste of Home Magazine (2009)