Low Sugar Cranberry Orange Muffins
1 cup Almond Flour
1 cup All-purpose Flour (plus 2 tablespoons if using fresh cranberries)
1 1/2 tsp Baking Powder
1/2 tsp Salt
1 cup Dried Cranberries (or 2 cups fresh)
1/2 cup Unsalted Butter
1/2 cup Stevia
2 Large Eggs
2 tsp Vanilla Paste
Zest of 1 Orange
2 tbsp Orange Juice (optional)
1/2 cup Milk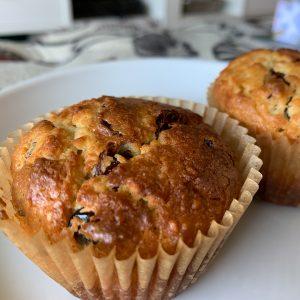 Preheat oven to 375 degrees (F).  Line muffin tin with muffin cups or grease tin with butter and coat with flour.
Mix together flour, baking powder, and salt in medium bowl.  Set aside.
If using fresh cranberries, toss with 2 tablespoons of flour and set aside.  If using dried cranberries, you can skip this step.
Crean together butter and sweetener until light in colour, approx. 2-3 minutes.  Add eggs, one at a time.
Mix in vanilla, milk, orange juice and orange zest.
Gently fold in flour mixture.  Once completely incorporated, fold in cranberries.
Scoop mixture into prepared muffins tin, filling about 2/3 to 3/4 full.  Bake until a toothpick or skewer inserted in the middle comes out clean.  Between 20-25 minutes.
Makes 1 dozen
Recipe adapted and inspired by: https://sallysbakingaddiction.com/cranberry-orange-muffins/