Grilled Pumpkin BBQ-Glazed Pork Chops
Pumpkin BBQ Sauce:
Pork Chops: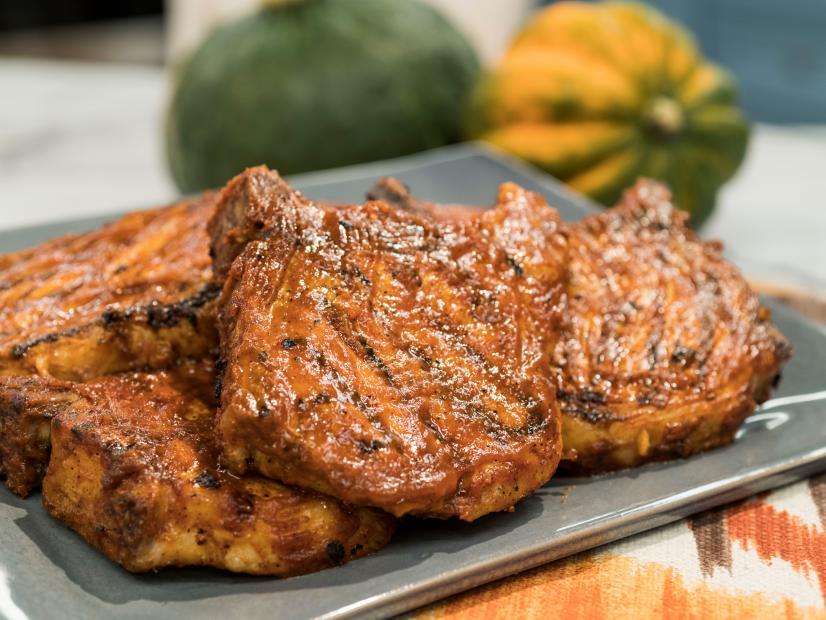 For the Pumpkin BBQ Sauce:
Heat the olive oil in a medium saucepan over medium heat.
Add the onions and cook until tender and transluscent, 4 to 5 minutes.
Add the ketchup, pumpkin puree, broth, sugar, syrup, vinegar, chili powder, Worcestershire, garlic powder, smoked paprika, pumpkin pie spice, salt and pepper and whisk well to combine.
Bring to a low simmer.
Reduce the heat to low and let cook until thickened, 20 to 30 minutes. If it begins to look too thick, add a few tablespoons of water or broth.
For the Pork Chops:
Preheat a grill or grill pan for cooking over medium-high heat.
Sprinkle the pork chops generously on both sides with salt and pepper.
Brush the chops on each side with vegetable oil and grill, 4 minutes per side.
Baste the pork chops on each side with the sauce and grill an additional minute per side to allow the sauce to caramelize.
Serve the chops with extra sauce.
Notes: Extra BBQ sauce can be stored in an airtight container in the fridge for up to 2 weeks.
Number of Servings: 4 servings