Mix and match your favourite Keto nibbles – fresh veggies, delicious dips, crispy crackers, meats, cheeses, nuts, and sweet treats for your next party:
Peppers
Cucumbers
Mushrooms
Cauliflower
Tomatoes
Guacamole
Natural Peanut Butter/Almond butter
Turkey Breast
Nick's Sticks (Spicy Beef Snack)
Moon Cheese
Lilys Chocolate Bar
Quest Protein Chips
Lowrey's Hot & Crispy Microwave Pork Rinds
Seedz Crackers
Eve's Crackers
Pecans
Almonds
Good To Go Bars
Vital Green Farms Organic Sour Cream
Olives
Pickles
Havarti Cheese
Cheddar Cheese
Trail mix I made (macadamia nuts, unsweetened coconut, pecans, pumpkin seeds, Lilys chocolate chips)
Smart Sweets (candy)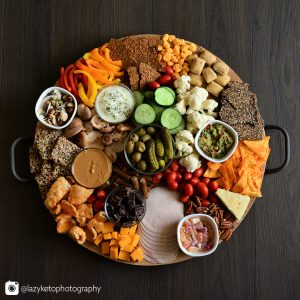 Choose a large board or serving platter.
Place 3-4 small bowls on the board or plate for your dips, sweets, etc.
Fill the spaces with your meats, cheeses, Keto crackers, veggies, nuts, etc.
Serve and enjoy with friends and family!
Recipe & photos created by Laurie Nybo – @lazyketophotography