¼ cup soft butter
½ cup soft Cream Cheese
2 Eggs
1/2 tsp Salt
1 tsp Vanilla
1 ¾ cups Almond Flour
3/4 cup Golden Monk Fruit or Swerve Brown Sugar
2 tsp Baking Powder
½ tsp Xanthan Gum
½ cup Lilys Chocolate Chips or Krisda Chocolate Chips
½ cup Pecans (pieces or chopped)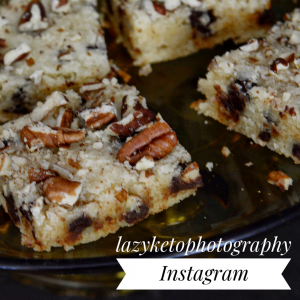 Preheat the oven to 350° F
Grease an 8×8 pan
Combine the softened butter, cream cheese, and the sweetener in a mixing bowl and use a hand mixer until smooth
Add in the eggs and vanilla and mix
Combine the almond flour, baking powder, and the xanthan gum into the mixing bowl and mix well
Fold in the chocolate chips
Pour into the baking pan and spread evenly.
Top the mixture with the pecans (or add into mixture if you prefer)
Bake for 18-25 minutes until the mixture is set. (may vary depending on your over and pan) Check with a tooth pick to see if it comes out clean at 18 minutes
Let them cool and cut into squares.
TIP: the longer you do Keto your craving of sweetness may change so adjust sweetener accordingly
Recipe & photos created by Laurie Nybo – @lazyketophotography