Keto Classic Cinnamon "Sugar" Muffins (Donut Style)
FOR THE MUFFINS:
½ cup heavy cream
5 tbsp butter, softened
2 large eggs
1 tsp vanilla
½ cup powdered sweetener, 20% off Lakanto with code MELISSA20
1 ½ cups blanched almond flour
2 tablespoons psyllium husk powder
2 tsp baking powder
1/2 tsp nutmeg
1/2 tsp ginger
1/4 tsp allspice
FOR THE COVERING:
2 tbsp butter, melted
1 tsp cinnamon
¼ cup granulated sweetener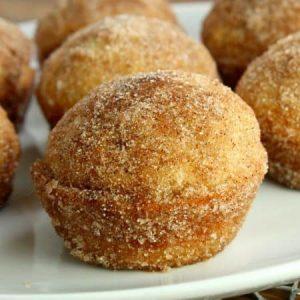 Preheat oven to 350.  Line a muffin pan with papers.
In a medium bowl using an electric mixer, cream butter, sweetener and vanilla until smooth. Beat in eggs and cream.
In a separate bowl, whisk together all dry ingredients (except for the topping ingredients).   Slowly add to the wet ingredients, continuously mixing with the electric mixer.
Spoon even amounts into each muffin cup.
Bake 18-20 minutes or until edges are golden and set up.
Allow to cool completely.
Brush finished muffins with butter, roll in cinnamon sweetener mix. Serve!
Recipe from howtothisandthat.com
Number of Servings: 12 Muffins