1/2 cup butter (softened)
2/3 cup Swerve brown sugar
4 eggs
3/4 cup pumpkin puree
1 tsp vanilla
1 1/2 cups almond flour
1/2 cup coconut flour
4 tsp baking powder
1 tsp cinnamon
1/2 tsp ground ginger
1/2 tsp nutmeg
Pinch of ground cloves
1/2 tsp salt
8 oz. cream cheese (softened)
2 Tbsp Swerve icing sugar
*Note – If you like more spice, increase cinnamon, ground ginger, nutmeg, and cloves to taste.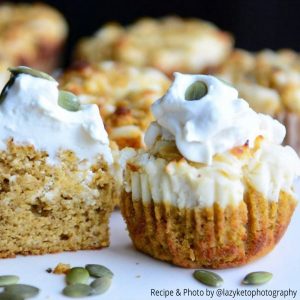 Preheat oven to 180˚C (350˚F) and line muffin tin with 12 muffin cups.
In a large mixing bowl, cream butter and Swerve brown sugar.
Add eggs and mix well.
Add pumpkin puree and vanilla.  Mix well.
In a separate bowl, sift almond flour, coconut flour, baking powder and spices.
Add sifted, dry ingredients to wet ingredients.  Mix well.
Scoop batter into muffin tin.
In a small bowl, whip softened cream cheese and Swerve icing sugar until smooth. *Note – microwave for 20 seconds if needed to soften.
Add 1 tablespoon of cream cheese mixture on top of each muffin.
Use the tip of a knife to swirl the cream cheese with the batter.
Bake for 20-25 minutes.
Serve with a dollop of whipped cream.
Recipe & photos created by Laurie Nybo – @lazyketophotography