2 – 2 1/2 pounds pastured chuck steak, cubed
2 tablespoons Thai red curry paste with no added preservatives or sugar
1/4 cup beef bone broth, warmed
1 teaspoon turmeric powder
One 14-ounce can coconut cream (not coconut milk; BPA-free)
1 fresh kaffir lime leaf (or zest and juice from 1/2 lime)
3/4 tsp salt (if curry paste is salt-free)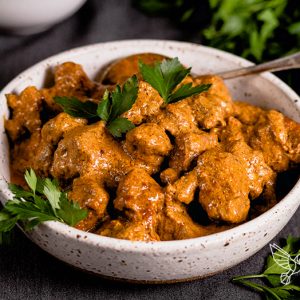 Preheat the oven to 210 degrees.
In a large bowl, whisk curry paste with turmeric, salt and bone broth until combined. If using lime juice and zest instead of kaffir lime leaf, add to the mixture.
Add meat and coconut cream and stir through until the meat is evenly coated.
Pour the mixture into an ovenproof dish and wedge the kaffir lime leaf (if using) into the meat. Place the lid on top and bake for 2 hours.
After 2 hours, give the mix a good stir and place it back in the oven (without the lid) and cook for another 1-1.5 hours.
If the meat is tender and almost falling apart, remove the dish from the oven. If not, continue cooking for another 40 minutes or until the meat is tender.
When cooked, carefully remove all the meat pieces from the dish and place them into a bowl. Set aside.
Keep the juices in the oven proof dish and place it back into the oven. Turn the heat up to 320 degrees and keep cooking the liquid for another 40 minutes, or until the sauce has reduced by half.
Remove dish from the oven and carefully return meat to the sauce.
Serve warm with zoodles, cauliflower rice, or steamed greens.
Recipe from bulletproof.com
www.bulletproof.com/recipes/keto-recipes/beef-curry-recipe/