2 

1

/

2

 

teaspoons 

instant yeast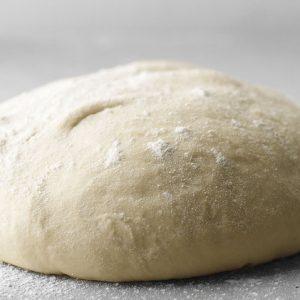 Add the olive oil and sugar to the warm water and sprinkle the yeast over the top. Let sit for 5 minutes, or until yeast is foamy.
Combine the flour and salt in a large bowl and pour in the yeast mixture. Mix with a wooden spoon until mixture begins to come together.
Turn the dough onto a clean surface and knead until dough is smooth. divide into 3 balls.
Roll out each ball and place on a greased baking tray.
Top with your chosen sauce and toppings.
Bake at 200°C for around 15 minutes, or until golden.
Recipe From Yummly.com
https://www.yummly.com/recipe/No-Rise-Pizza-Dough-1231727#directions