2 cups old fashioned oats
1/2 cup brown sugar
1/2 cup butter OR margarine
1/4 cup Beehive® OR Crown® Golden Syrup
1/2 teaspoon salt
1 teaspoon pure vanilla extract
1 cup (6 ounces) semi-sweet chocolate chips
1/4 cup chopped nuts (optional)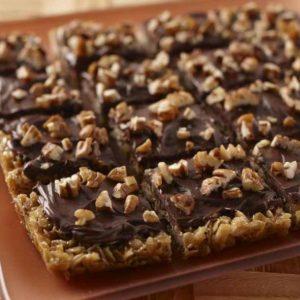 Preheat oven to 400°F.
Combine oats and brown sugar in a large bowl. Melt butter in a small saucepan or in microwave. Stir in corn syrup, salt and vanilla. Pour over oat mixture; mix well.
Pat out in greased 9-inch square baking pan. Bake 9 to 12 minutes until bubbly. Cool on wire rack.
Melt chocolate chips in microwave-safe container on MEDIUM (50%) for 1 to 1-1/2 minutes. Stir until chips are completely melted. Heat 15 to 30 seconds longer if needed. Spread chocolate over cooled Oatsies. Sprinkle with nuts, if desired. Chill 15 to 30 minutes to set chocolate. Cut into bars.
Recipe from  www.makegood.ca
Number of Servings: 16 Bars