One Skillet Trout With Green Beans & Almonds
1 lb (450 g) rainbow trout fillets
Salt and pepper to taste
3 Tbsp (45 mL) butter, divided
¾ lb (340 g) green beans, ends trimmed
½ cup (125 mL) sliced almonds (or whole almonds, roughly chopped)
Juice of half a lemon
½ cup (125 mL) chicken broth or white wine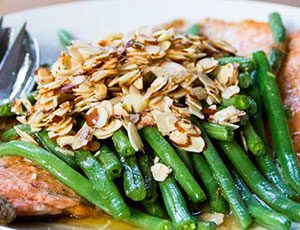 Sprinkle trout generously with salt and pepper. Heat 2 tbsp (30 mL) butter in large skillet over medium-high heat.
When butter is hot, but before it begins to brown, add trout, skin side down, to skillet. Cook for 2 to 3 minutes, or until skin starts to crisp; flip trout and continue cooking a few minutes more, or until the trout is almost cooked through. Transfer to large plate or platter and keep warm.
Add green beans to hot skillet and cook, tossing, until tender-crisp. Top trout with beans; keep warm.
Add almonds to skillet and cook for 1 minute, or until they start to brown. Scatter almonds over beans and trout.
Add the lemon juice, broth (or wine) and remaining butter to the skillet, stirring until butter is melted and sauce begins to boil and starts to thicken. Pour sauce over top of trout and beans. Sprinkle with additional salt and pepper before serving.