Roasted Cauliflower Salad
2 heads cauliflower, cut into medium florets
2 Tbsp olive oil
2 tsp kosher salt
1 tsp freshly ground black pepper
½ cup pine nuts
¼ cup pesto
3 Tbsp champagne vinegar
6 cups mixed baby arugula, spinach and kale
½ cup pitted Castelvetrano olives, halved
½ cup pitted kalamata olives, halved
½ cup fresh Italian parsley leaves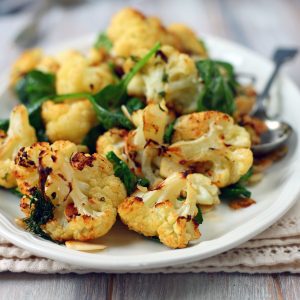 Preheat the oven to 450ºF.
Toss together the cauliflower florets, olive oil, salt and pepper and divide between 2 baking sheets. Roast until the cauliflower is deep golden, 18 to 20 minutes. Allow to cool.
Meanwhile, in a dry saute pan over medium heat, toast the pine nuts until lightly toasted, 4 to 5 minutes. Transfer to the baking sheets with the cauliflower.
Next, place the pesto and champagne vinegar in a small mason jar. Screw on the lid and shake until well combined.
Place the baby greens onto a large platter, top with the cooled cauliflower and pine nuts and then scatter the olives and parsley over the top. Just before serving, drizzle over the dressing and toss.