Sugar-free Cherry Almond Jam
4 cups Fresh or Frozen Cherries (pitted, chopped/crushed)
1/2 cup Lemon Juice
1 cup Lakanto Sweetener (with Monkfruit)
2 tsp Pomona's Universal Pectin
2 tsp Calcium Water (provided in pectin box)
1 tsp Almond Extract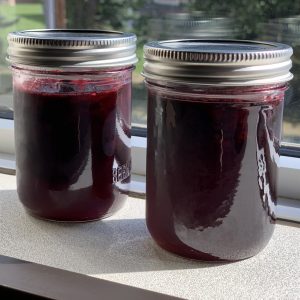 Wash jars, bands, and lids. Place jam jars, bands and lids into a preheated 225-degree oven for 10-minutes. Turn off the stove and leave jars until you are ready to use them.

If using fresh cherries, pit before adding to a large saucepan. If using frozen, measure, and add to the pan.

Prepare calcium water as directed in the pectin box.  Set aside.

In another small bowl, combine sweetener and pectin. Set aside.

In a small bowl, add lemon juice and calcium water. Mix well and add to cherries.

Heat the cherries in the saucepan over medium heat. As they start to soften, mash with a potato masher to the consistency you like. Bring cherries to a boil.

Add pectin-sweetener mixture to cherries, mixing for 1 to 2 minutes to dissolve pectin while the jam comes back to a boil. Boil for 1 full minute once the jam reaches the boiling stage.

Fill sanitized jars to 1/4 to the top – clean rims with a clean cloth. Add bands and lids. Tighten bands.

Add jars to the water bath, submerging fully. When the water reaches a full boil, let filled jars boil for 10-minutes.

Seal test: If a jar does not seal, you can reprocess it again in the water bath for another 10-minutes.
Recipe adapted from Sugar Free Sprinkles
Number of Servings: 4+ jars (500 ml)