The holy trinity of beauty proteins: collagen, elastin & keratin.
Collagen, elastin, and keratin are your friends in all things beauty.
They're the three proteins that keep your hair, skin, and nails strong, shining, and healthy. As we get older, we produce less of these proteins. They become easily damaged by environmental and lifestyle factors, which results in wrinkles, fine lines, brittle nails, and thinner hair. Biosil's patented ch-OSA complex activates and protects the production of collagen, elastin, and keratin, supporting your beauty from within. *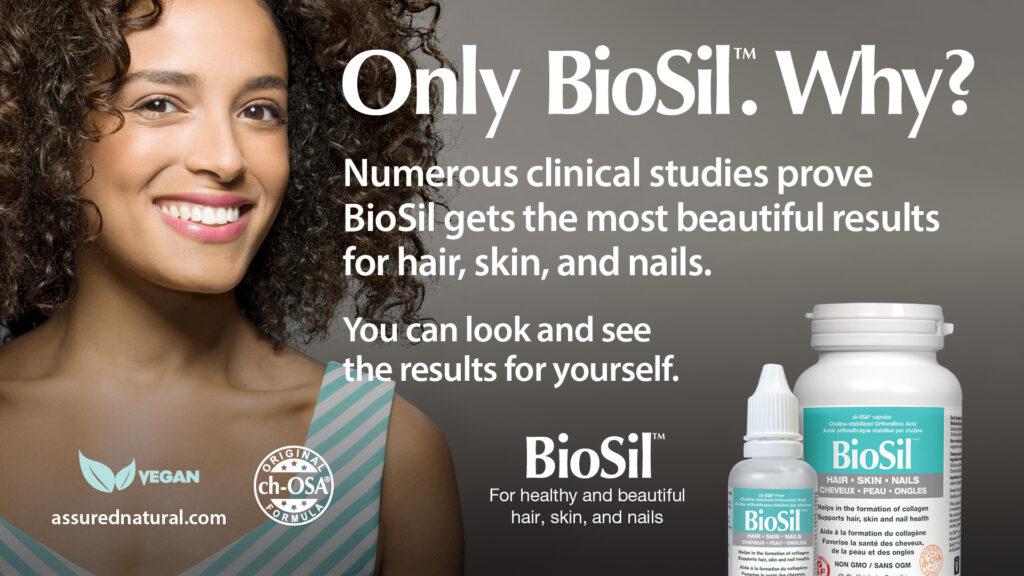 Generate & Protect your collagen
Biosil is a unique, high-quality supplement—the only supplement that protects and replenishes your own collagen production. Heighten your natural beauty, amplify it from within with Biosil. Real results, clinically proven.
GLOWING SKIN
Let's celebrate the skin you're in. Biosil regenerates and protects your skin at the cellular level in two significant ways. First, by preventing collagen degradation, and second, by activating your own production of new collagen and elastin for healthier, glowing skin.*
Why is this important? Collagen is a strong, lustrous protein that's responsible for your skin's firmness and glow. It makes up 75% of your skin. Then there's also elastin, a resilient, spandex-like protein that keeps your skin tight and supple. In general, you start your life with plenty of both. But around age 21, collagen begins to decrease at a rate of 1% per year, impacting your skin's ability to function as your body's primary protective barrier. And by age 30, deteriorating collagen fibers result in wider and deeper lines while decreasing elastin impacts the depth and severity of wrinkles. Skin becomes thinner, weaker, duller, and less elastic as collagen and elastin levels decrease with age, sun damage, and other factors. And there goes your glow.
But Biosil supports your beauty from within by protecting and generating your collagen and elastin, rejuvenating and illuminating your skin.
STRONG, BEAUTIFUL HAIR
Biosil is fantastic for your hair. It's clinically proven to help each strand of hair grow stronger and thicker. How? Because Biosil's active compound ingredient ch-OSA activates and protects the collagen-producing cells in your body. And this improves nutrient flow to the roots of your hair and enlarges the root itself. It also helps bind the keratin fibers in each strand, which in everyday words means that it reduces fraying and split ends.*
Your hair consists of 97% keratin, but it grows from collagen-based tissue in your skin. After the age of 21, collagen levels start to decrease, and pretty quickly too! Low collagen in the scalp deteriorates the root and results in thinner, weaker hair that breaks more easily. Taking Biosil protects and replenishes your collagen. The result? Thicker, healthier, more luscious hair.*
STRONGER NAILS
Say goodbye to brittle nails, because Biosil is clinically proven to help your nails grow stronger and smoother. How? Biosil activates the collagen-producing cells in your body, which improves nutrient flow to the nailbed and increases keratin production. The result? Thicker, smoother, healthier nails.*
Your nails are made of keratin which grows from collagen-based tissue. The nailbed, where keratin grows, is called the luna: it's the half-moon shape at the base of each fingernail. However, starting around age 21, declining collagen levels reduce the size of the luna and thus the keratin produced for each nail. But there's good news. Because Biosil can help mend and prevent thinner, peeling and splitting nails.*
Biosil's patented ch-OSA complex improves nail health in four complementary ways:
it increases the size of the luna, which increases the amount of keratin produced, creating thicker nails*
it improves blood flow under the nail plate, which provides more nutrients and helps nails grow faster *
it activates the production of l-proline, a crucial amino acid in keratin *
and it supplies orthosilicic acid (OSA), which directly binds keratin fibers together in the nail to prevent peeling and breakage.*